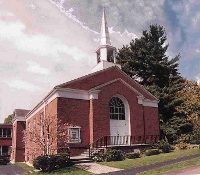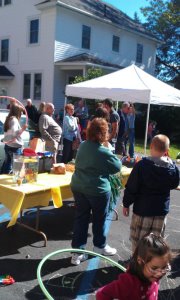 &nbsp
Take a turn down the only one way block of Glenburn road in Clarks Green and you'll find houses, children playing, and a quiet residential area. You'll also find a church. It's the kind of church that when you see it you are reminded of the days when churches were the center of the community. It brings to mind family, quaintness, and a place where everyone knows everyone else. Some have referred to it as "that Little House on the Prairie" church. Clarks Green United Methodist Church is certainly all of these things. But it's also much more. Because when you imagine all of these traits, you likely also imagine a staunch, traditional, old school church that time may very well have forgotten. You'd be wrong.
Clarks Green United Methodist is certainly an intimate congregation that has a traditional feel. It is also one of a growing number of churches that is bridging the gap between tradition and contemporary. It steps away from the megachurch model in favor of a more intimate setting, while at the same time pushing a personality relevant to the modern world in which we live. A walk into the sanctuary begins to tell the tale. Instead of aged wood and musty aromas you find a clean space flooded with natural light. A simple space yet lively and warm. On Sunday mornings you will find mixes of traditional hymns with sermons that challenge the critical thinker and are laced with laughter and familiarity. You will find a balance of choir, handbells, and the magical harmonizing of the men's group known as the Gospelaires.
But what will you find during the week? Certainly not darkened hallways. You will find discussion groups that are a far cry from the studies of days gone by. Rather there is an open forum of spirituality on Monday nights, and frank, participant based conversation about any and all topics on Sunday evenings. You'll see Scouting, and a wide variety of amazing opportunities hosted for the Abington Area Community Classroom. A longstanding watercolor group livens the lounge on Tuesdays. Twice a week in the mornings you will find seniors sweating and working out, while in the afternoons children kick, punch, and yell during Tae Kwon Do classes.
You will find a variety of opportunities for every age to grow as people, and to explore their faith through contemporary technology, as well as tried and true means of engaging one another through social experience, breaking bread together, and face to face engagement. You will find a place that marries well the feel of a community based church that is familiar and an active, thoughtful, here and now way of doing ministry.
If you want to learn more, click on the "Contact Us" link on our home page.