THE APPALACHIAN SERVICE PROJECT
Building Hope Together
An ecumenical home repair/building Ministry serving Central Appalachia
Creating a warmer, drier, safer home for those in need
What is ASP?
The Appalachian Service Project (ASP) is a relational Christian housing ministry that works to make housing for central Appalachia warmer, safer, and drier. We make changes in the living conditions of the families we serve, but the impact of the relationships we build with the families, other volunteers, and the staff is far reaching. Click here for more details about the Appalachian Service Project
The congregation at Clarks Green UMC has been supporting the Appalachian Service Project for fourteen years. Our volunteer contingent has grown year by year. In recent years more than forty youth and adult volunteers from CGUMC and other churches in our community have made the week long trip to help those less fortunate. Volunteers have come from Epiphany Episcopal, Clarks Summit UMC, Chinchilla UMC, Peckville UMC, First Presbyterian of Clarks Summit, Our Lady of the Snows and St. Gregory's. ASP youth & adult volunteers meet every second Sunday evening of the month at 7:00 PM at the Clarks Green Church.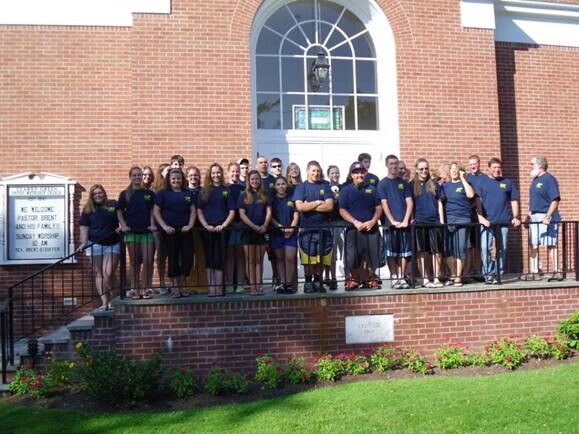 2011 ASP Volunteers from Clarks Green
Click here to checkout CGUMC ASP on Facebook.
Appalachia Service Project volunteers have frequently been asked, "Why do you travel all the way to West Virginia to repair homes? You could work right here in the Scranton area."
When we are at home we are often bombarded by competing priorities—friends, homework, jobs, sports—which all demand pieces of our time. When we do get a break, we can choose between multiple movies at a theater, 100's of channels on TV, and millions of sites on the Internet.
Being away on a mission trip defines our work, all the priorities back home fade into the background. For a week we know just what the Lord wants us to do.
The ASP volunteers also work all year training in building skills, sensitivity to the Appalachia area and fundraising to support our mission.
Testimonies from ASP Volunteers
Imagine…
Imagine that you've never left your area where you lived your entire life and your area was very sheltered. You knew nothing out of your town. Nothing bad ever happened where you lived. Then you decide to go on a mission trip with your church because you're very bored with your town and you want to see how other people live.
You hear the stories about the families and the homes, but you just can't believe it until you experience it for yourself. As you're on you way down to Appalachia you look out the van window and notice all the houses that look a total wreck compared to your town. When you finally get to your center you realize the area you're in is nothing like yours. It's completely different and totally brand new.
You go to sleep on a gym floor thinking it's kind of like camping out for a week, and wake up the next morning getting ready for your first day of work and meeting your family. As the van pulls up to your house your mouth drops and you're never the same as you hear the story of how it became like this. The week goes on and you help rebuild the family's home, getting closer to them and making progress in changing their life for the better. Next thing you know, it's Friday and you have to say goodbye to your family. You start to cry because you got to know them. When you go you feel a sense of completeness because you've done something so wonderful for someone that they will never forget, and neither will you.
Erica Yerke
I had an amazing experience this year on Asp. I was on the team with Mr. Cianci and my mom; we were working on a trailer for a single 25 year old guy, who was very shy and kept to himself for most of the week. His roof was leaking because a tree had fallen in on it several months earlier. We had to build tresses for the roof then put tin over them so it wouldn't leak anymore, we also had to put insulation under the trailer and then put underpinning.
By the end of the week we had all we needed to have done and more. It was really cool because even though the guy we were working for, Justin, was very shy, by the middle or the end of the week he would come out and talk to us a little bit, and he would be looking to see what we were doing. It felt really good to know that we could make someone's home drier and safer to live in.
We also had neighbors who were noticing our hard work and really liked what we were doing so they would bring us some drinks and a watermelon for us so we wouldn't get sick in the heat. Overall ASP was an awesome experience and I plan on going back every year.
Annabelle
We're always being asked to send money and equipment overseas to poor countries. I don't think we realize that the same conditions of poverty are found in our country as well. I think it's kind of sad that we have people here in one of the richest countries of the world that don't have electricity and running water in their homes and yet this is what we saw on our ASP trips.
Krista Dietrich
I started off with ASP mainly because it seemed to just run in the family and I just figured it would be fun. But then when I started going I realized I had a large group of people I would consider my family, and also that I didn't just do it because I wanted to help people. I found out that I just loved being with really close friends and being able to teach people what I have learned from my past years on ASP! I thought that I would be able to give something back, and so to this day that is the main reason why this is my 7th year on ASP!
Ryan Arnold