Gospelaires
By WARREN WATKINS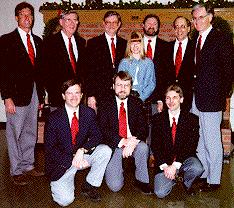 The Gospelaires were formed in the spring of 1984. Composed partially of men of the Clarks Green United Methodist Church choir, the group also included men who did not sing in the choir. This really was the reason the group was formed. Many men within the church didn't feel they had the expertise and experience to sing in the choir. However, they enjoyed just plain old singing which included gospel songs. Thus the group came together and called themselves the Gospelaires.
Originally there were seven members; today there are nine. The group has sung under the direction of six different directors, presently under the direction of Mary Montoro.
A large part of their repertoire is four-part music for male voices written by that well-known gospel singer and writer, Mosie Lister. However, through the years they have expanded their music to also include other well known gospel writers. Most of the music is centered around the church and gospel rhythms. However, they do include patriotic, Christmas and other sacred tunes as part of their singing.
The Gospelaires have recorded two cassette tapes in 1986 and 1994. Both tapes sold out and are no longer available.
The members of the group come from various walks of life and professions and practice twice a week. During the summer months they enjoy a respite from rehearsals and relax, looking ahead to a busy concert season in the fall, winter and spring. Composed of first and second tenor, baritone and bass each section is equally balanced and provides excellent harmony to all those who enjoy good gospel music.
The Gospelaires have traveled extensively throughout eastern Pennsylvania and Southern Tier of New York. Although singing a large part of their music in churches, they have also performed before Masonic organizations, nursing and retirement homes and various social events. They have been privileged to sing before the members of the Wyoming Conference and the Board of Directors of the United Methodist Homes. They frequently provide special music for the annual Churchmen United lenten communion breakfast service.
New members are welcome. You don't even have to be a church member. Gospelaires who go to other churches on Sunday morning often join us for performances outside the church. If you would like to contribute to worship and fellowship through singing, give us a call!
---
To arrange a performance, you can contact the Gospelaires by emailing the webmaster.
---