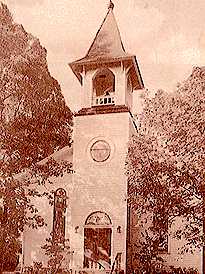 The first official record of the Clarks Green United Methodist Church is a report of the initial church conference held in 1867. We were part of a circuit of four churches and our pastor was a "circuit rider" who literally moved from church to church on horseback. In 1911 Clarks Green separated from the Waverly circuit sharing a pastor with the Chinchilla Methodist until 1956 when each church received its own pastor.

The charter for the church was granted in 1868 and the original church building and grounds cost $3,062.50. In 1897 a "good furnace" was installed. In 1946 the first Hammond organ was acquired and a balcony was added. In 1958 the present educational wing was approved and in 1968 plans to build a new sanctuary began. With its new pipe organ and the present structure, worship in the new facility began October 5th, 1969. The bronze bell from the old church was installed in the new steeple where it continues to summon the faithful as it did for the original settlers from Connecticut and Rhode Island.

Our church is a member of the Susquehanna Conference of the United Methodist Church. Our Bishop is the Rev. Jane Allen Middleton and our District Superintendent for the Scranton District is the Rev. Beth Jones.

Our congregation celebrates the rich history of the past and is forging ahead to meet the complex needs of the new millennium.