---
Something For Everyone
Click a topic below for more details.
Music And Worship
Mission and Ministry
Education
Youth
Fellowship
Community Outreach
---
WORSHIP AND MUSIC
Anyone wishing to participate actively in our worhip services is welcome to do so in any of the following capacities: lay readers, acolytes, ushers, greeters, lay worship leadership, Handbell Choir, Vocal groups: Choir and The Gospelaires (men's singing group).
Top
---
MISSION AND MINISTRY
Church lay visitation committee, Appalachian Service Project-ASP (a missional team of youth and adults sent from the congregation to help the impoverished), United Methodist Women, prayer chain, meal outreach, outreach to college students, Care & Share ministry to Clarks Summit State Hospital for mentally ill, prison ministry, tape ministry to the homebound, Prayer Shawl Group, over thirty world-wide opportunities beyond our basic missional support.
Top
---
EDUCATION
Church school for all ages, Bible Study and prayer, Vacation Bible School, Confirmation Classes, a variety of periodic and seasonal workshops.
Top
---
YOUTH
The mission of the United Methodist church and its youth ministry is to make disciples of Jesus Christ. We foster growth and leadership of our youth in grades 6-12 through bible study and discussion using contemporary materials and movies, joining in Christian community with other youth in camping programs at Sky Lake, youth events at the conference and multi conference level such as Youth Alive and 4WORD, Chrysalis retreats, and direct mission each summer through Appalachia Service Project, an ecumenical home repair mission. Our youth also participate in worship through music ministry in handbell choir, and sharing their musical gifts in special worship services. They have also planned and led youth services, provide youth representation on our church council, and serve as volunteers at Vacation bible school. Christian education programs on Sunday mornings include opportunities for learning for our middle school and high school age groups. We provide a safe and nurturing place for youth to learn, grow in faith, and discover who God is and how we are called to live.
Top
---
FELLOWSHIP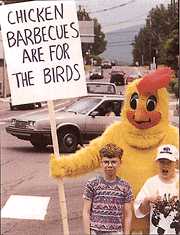 Potluck suppers, annual Thanksgiving dinner, Women's Christmas and Spring tea, Christmas progressive dinner, coffee hours, Disciple Bible Class, Prayer Shawl Group, annual chicken barbecue, semi-annual rummage sales, continually forming new opportunities.
---
COMMUNITY OUTREACH
Abington Ecumenical Ministries (food pantry, Healthy Communities/Healthy Youth initiative, Thanksgiving service, choir festivals, food, shelter and clothing for the needy), Boy Scouts, Girl Scouts, migrant kits, aerobic classes.
---